Home Energy Audit
Read About a Few of Our Projects Below


[row]
[hr]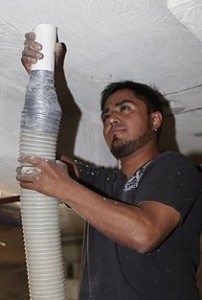 David G.,
Fairfax, Virginia
Work performed: Energy Efficiency Audit followed by extensive sealing and insulation of attic, bay windows, garage and exterior perimeter of house
Overall Grade: 
A
Client Comments: 
Energy Efficiency Experts is a highly competent company you can trust with your energy efficiency needs at some of the best pricing on the market today.
Audit and Repair Estimate
: Scheduling the home energy audit was a breeze via Angie's List. Pascale and her team arrived on time, conducted a thorough metrics-based energy audit by using a blower door test to determine house pressure, portable temperature sensor to measure cold/hot air leakage, and a visual inspection of the attic and all potential leakage areas. They provided an 11-page document with pictures and statistics fully demonstrating any problem areas, and Pascale sat down and explained everything in detail along with potential corrective measures. We truly appreciated her down-to-earth explanations and practical discussion regarding problems, repairs,  and realistic cost savings and added comfort. Some things need to be done, while others can be done – you should know the difference.
Corrective Actions
: Again scheduling the repairs was extremely easy. This time, Pascale sent out a foreman who headed up a team of experts to conduct all of the work over a two-day period. The foreman was exceptional at keeping me informed on the progress and any issues throughout the project. Everything was completed on time and in a professional manner and clean-up was excellent as well. Again, the foreman took me around and showed me the work that had been completed. Although it will take a year or so of collecting metrics and bills to see what cost savings were actually made, we have already noticed a difference in comfort when cooling the house with the same exact temperature settings as last year.
Cost
: Both the audit and the corrective actions were very competitive compared to other highly-ranked companies.
[/row]
[row]
[hr]
[span12]
Brian W., Fairfax, Virginia
Work performed: Conducted whole house air sealing.
Overall Grade: AClient Comments: A totally professional and knowledgeable company. Provide very detailed analysis and walk you through every step of the project and answer every question. David was our project lead and provided expert advice and assistance.
[/span12]

[/row]
[row]
[hr]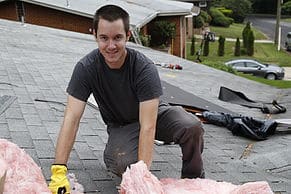 Marcia B., Montgomery Village, Maryland

Work performed: Townhouse insulation.
Overall Grade: 
A
Client Comments
:  Pascale and her team did an excellent job of insulating my townhouse. They arrived on time, a bit early , which is fine and worked very hard and were always professional during the course of the two-day project. They even cleaned up after themselves and I would use them again. I would also recommend them to anyone that needs insulation done to their home.
[/row]
[row]
[hr]
[span12]
Marty M., Washington, DC
Work performed: Comprehensive air sealing of all top plates, walls, and penetrations in the attic and basement. Installed baffles in attic and blew in insulation.  Blew in dense packing of insulation in a garage ceiling to better insulate bedrooms above the garage.
Overall Grade: AClient Comments: I highly recommend Energy Efficiency Experts, and the owner, Pascale Maslin, for energy home audits, as well as the installation of baffles, insulation and air sealing. Energy Efficiency Experts is one of the few companies that is authorized by the DC Sustainable Energy Utility to perform this work, and homeowners can receive up to $1,600 in rebates through September 30, 2015.  It is noteworthy that the companies with the lowest prices, some of whom get the highest ratings on Checkbook, are not authorized to perform this work, and if you hire them, you will not receive the rebates.  It is important to note that if insulation is installed wrong, as explained below, considerable damage can be done to your home. This is one service where you want to hire a company that is competent, and not necessarily the cheapest in price.
Pascale is clearly one of the very best companies in terms of her expertise and quality of work in the greater Washington DC area, and I highly recommend her services.  Maslin performed an energy audit of my home, and her written report was very comprehensive and identified all of the issues in my 50-year-old home.
The key issue in the installation of blown-in insulation is the location of the vents in the soffits and eaves, and to prevent blown-in insulation from clogging those vents — which will absolutely happen with blown-in insulation unless steps are taken to prevent it. The vents perform a critical function by allowing a free flow of air which lengthens the life of your roof, and prevents the formation of ice dams in the winter. In the vents are blocked, serious damage can occur, both from ice dams as well as mold in your attic.  Equally important is air sealing of the top plates, walls, and lights that penetrate the attic.  In the case of my home, if the job had been done wrong, it could have only been corrected by literally removing the roof, shingles and plywood in order to fix the problem.
I was a bit concerned when I realized that Pascale would not personally supervise the installation of baffles to keep the vents clear, as well as the blowing in of the insulation.  I quickly realized that there was no basis for my concern. The job was supervised by a member of Pascale's staff, Brendan.  Brendan was clearly well trained by Pascale, as he did an incredible job, and he was in the attic the entire time with the crew personally supervising the air sealing of the attic, as well as the installation of the baffles.  My home has a very low roof, and almost no clearance within the attic. To reach the end of the attic and the soffits is an incredibly difficult job, with clearance of less than a foot.  Brendan and the crew did a remarkable job in a very tight attic and in difficult circumstances. To reach those areas Brendan and the crew literally crawled through 50-year-old insulation and dust, in a hot attic, on their stomachs.
After the insulation was blown in, I installed a new roof and shingles. As part of that the roofer discovered that all of the plywood across the front of my house was rotten and had to be replaced, probably due to ice dams in the winter. The removal of the plywood allowed me to physically verify where the vents were, and verify that Pascale's crew had properly installed the baffles and done a first rate job.  Pascale even sent Brendan back to double check the insulation and baffles when the rotten plywood was removed, and that was clearly going above and beyond the call of duty.
If you want the cheapest job possible, some of the companies that receive the highest number of ratings on Checkbook charge considerably less.  One of them quoted a price of $150 for air sealing and $100 for installation of baffles.  Those prices are simply absurd given how labor intensive this work is, especially if it is done correctly.  The low prices reflect what would be the quality of their work, and I am not surprised that they are not authorized for rebates through the DC program.
In light of the fact that air sealing and insulation is done only once, hire a competent company and do the job right the first time.  That company is Energy Efficiency Experts and Pascale Maslin.
[/span12]
[/row]
[row]
[hr]
[span12]
Homeowner: Washington DC
Work Performed: Comprehensive Energy Audit and WeatherizationOverall Grade:  AClient Comments:  Our experience with Energy Efficiency Experts (specifically, David) was excellent from start to finish.  They spent several hours going over our 3 level home to perform the energy audit.  David then returned a few weeks later to thoroughly review the results of our audit with us. We ultimately hired them to complete the improvements recommended in the energy audit.  He worked with us on price and helped coordinate our refund from DC.  When two of the thresholds on our basement doors didn't fit quite right, they returned later, free of charge, to replace them.
[/span12]
[/row]
[row]
[hr]
[span12]
Homeowner, Rockville Maryland
Comprehensive Energy Audit and WeatherizationOverall Grade:  AClient Comments: Energy Efficiency Experts conducted a thorough energy inspection and assessment of my house, including assessment of points of leakage of heat and cold in and out of the house, existing appliances, and existing insulation, and made recommendations on how to address problems and reduce energy costs. The inspection included measurements of leakage and ventilation. All information provided was extremely detailed and helpful, and the inspection and assessment seemed very professional.
[/span12]
[/row]
[row]
[hr]
[span12]
Homeowner, Washington, DC
Work performed: Energy audit on entire house. Sealed outside of house. Replaced incandescent bulbs with CFL bulbs. Replaced shower head with low flow model. Made energy improvements to house including new insulation.Overall Grade:  AClient Comments:  We were very pleased with the work that Pascale and her crew did and the benefits were immediately noticeable. We had definitely noticed some rooms were much colder than others in the winter and the upstairs was often sweltering in the summer even though my husband had installed a solar powered attic fan.EEE came out and ran an energy audit on time on the date decided upon. The audit was very thorough and conducted from a blower test and an extensive inspection of the house inside and out. From the inspection, we received a report with photos and graphs indicating our energy usage as compared to the ideal situation for a house our size, etc. Pascale (the owner) sat with us to go over the findings and we were shocked to learn from photos that not only was one of our crawl spaces done very haphazardly, but that the other area over another floor's ceiling had about only 2 inches of insulation. Pascale was very engaged in conveying the information in the reports to us and ensuring we understood the terminology and technology behind everything as well as the metrics on best practices. It was clear that she is passionate about what she does.Given the potential financial savings from future energy costs and given the generous Pepco subsidy (50% or $2000) toward the upgrades, we decided to move forward with the energy efficiency implementation strategies identified.EEE and their sub-contractors blew in a ton of insulation, sealed cracks with foam all around the perimeter of the house, and put in additional weather stripping. The team even found that there was a hole in the wall of our house underneath one of the soffits, and they patched it in addition to putting in the insulation planned for that area earlier. Since the work was done, we have noticed a huge decrease in the amount of time that the furnace stays on in the winter and the rooms upstairs are waaay more consistently heated. This is even more remarkable when one considers this winter is much colder than the last.
We were further pleased when the last 2 month's gas bills came in indicating less usage than last year. These most recent months were the only in the last 18 months where our usage was lower than the year before, and clearly this is due to the energy improvements. We would hire Energy Efficiency Experts again in a heartbeat.Thank you to Pascale and her team.
[/span12]
[/row]